Ban Hin Kiong Temple
This 19th century temple, the oldest in east Indonesia, is the worship place of Chinese Buddhist believers. The temple is located on Jl. Panjaitan in the center of the city.
During Toa Peh Kong each February, a traditional Chinese parade dating from the 14th century is held.
Wolter Monginsidi & Pierre Tendean Monument
A monument to commemorate the meritorious young men from North Sulawesi, Wolter Monginsidi and Pierre Tendean. Wolter Monginsidi died during the struggle of Indonesian Independence and Pierre Tendean died in the so-called "communist rebellion" on September 30, 1965.
Situated on the waterfront, facing the Bay of Manado, it is usually crowded with people who want to relax while enjoying the beautiful panoramic view of the bay. The monument is located in Bahu at the intersection of Jl. Monginsidi and Pierre Tendean.
Museum Negeri Propinsi Sulawesi Utara
This Provincial Museum offers visitors and students alike, guide about art, culture and history. It includes displays of the four ethnic groups inhabiting North Sulawesi, as well as the Batak Tribe (West Sumatra), Lombok, Bali, Central Sulawesi and Irian Jaya. Historical artifacts from the Dutch, Portuguese, Japanese, Chinese and Swedish can also be seen. It is located on Jl. W.R. Supratman, Manado.
Second World War Memorial
A memorial to commemorate the destruction of Manado which was heavily bombed and to honor the victims of World War II. It is located in the center of Manado next to Gereja Sentrum (City Center Church).
Japanese Monument
As Bitung played an important role in WW II as a home base for the Japanese Forces, it became the last resting place of their soldiers who died during the War. To commemorate this time in history and the men who died, the Japanese and North Sulawesi Government constructed this monument located at Manembo-nembo 7 km from Bitung center.
Trikora Monument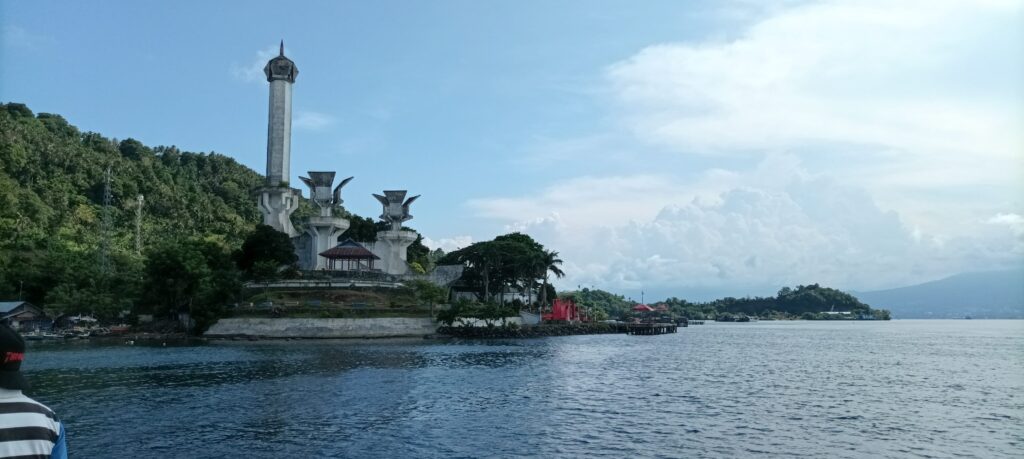 Is situated on a bluff at Lembeh Island Beach, the DC3 monument and park offers a nice opportunity to observe ships going by as well as being a gathering place on Sundays and holidays. Reachable by motorized outrigger.